November 2015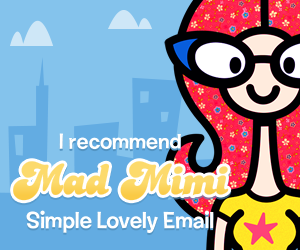 CLICK THIS IMAGE TO SIGN UP FOR MAD MIMI
Do you send business email? So many people do. I have been using Mad Mimi for my emails since 2009. I loved them then, and now they are even better. It's ridiculously easy to create your custom emails, and they have the best customer support ever. And tracking, stats, and everything you could need to make gorgeous, effective, and easy emails. 


Take my advice, make friends with Mad Mimi. You won't be sorry. And please, if and when you do decide to give Mimi a spin, please link through the image above. That way I get a kickback through their affiliate program. And you know what? You can become an affiliate too. Just another great thing about Mimi.
Click here for  my latest newsletter.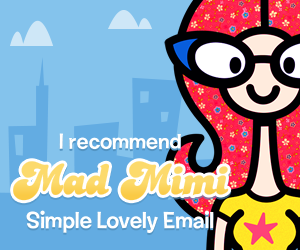 click the image to check out Mad Mimi. If you sign up this way, I will get the affiliate bonus. Once you have signed up, you can get an affiliate bonus for getting new customers too. AND you will be using the best, easiest, most beautiful, helpful email service in the universe. 
---